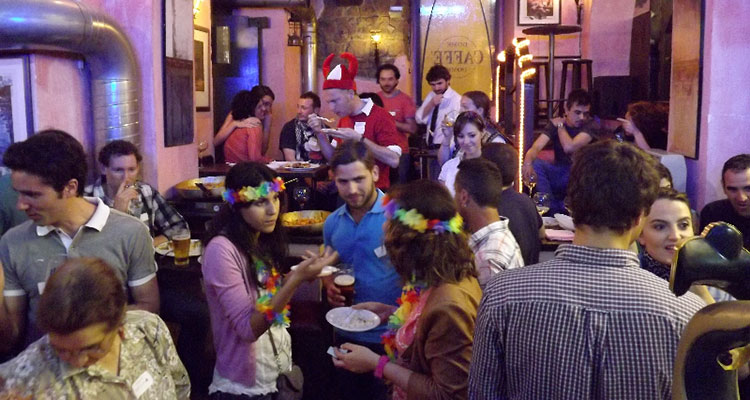 Italian language exchange in Rome + happy hour
Do you want to improve your Italian language skills in a relaxed and friendly setting with mothertongue teachers ready to help and guide you, tasting good Italian food, drinking and meeting new people?
 How does it work?
1) Sign up online for the language group that you would like to join (Italian, English, French, Spanish or German) at eventi@koinecentre.com. Remember: no booking, no chit-chat!
2) On Wednesdays come along the Club. Someone of our staff will welcome you and guide you in your favourite (and booked) language group.
3) Lesson/Conversational session will start at 7,30pm. Please, be punctual!
4) At 8,30pm finish the group conversation and the Club will open their kitchen's doors where you can start tasting his special Italian food. At that time, you will have a badge over you, where is specified your mother tongue, so that other chit-chatters, interested in your mother language, can exchange your language for their!
5) How much? 1h conversation + 1 drink + buffet = 12€
6) How many? Max group size 12 people
Please, DO NOTE: if you are really interested in, you MUST register to the FB group and then you MUST send an email to eventi@koinecentre.com, by specifying the language group (English, French, Spanish or Italian), the number of chit-chatters, name and surname, age, level of language.
FOLLOW OUR EVENTS CALENDAR
Expand your italian with us! It's easier than you think!