Дата / время
Дата/ы - 05/02/2018 - 30/03/2018
11:00 - 19:30
Место
Koiné - Italian Language Centre
Категории
Do you want to be a qualified English Teacher Worldwide?
This must be the Course!
Our full-time Trinity CertTESOL course will last 4 weeks and it will take place from Monday to Friday from 11.00am to 7.30pm, including some short breaks and a lunch break, in Rome City Center.
You will have the great opportunity to spend 4 weeks to teach yourself for a new job, or specialised you on it, and live at the same time the ethernal city of Rome!
This course is validated by Trinity College and covers all 5 units of the Trinity Cert TESOL qualification: Teaching Skills, Language Awareness, Learner Profile, Materials Assignment, Unknown Language. There are also additional modules, such as "Specialised Classes" and "Working in ELT".
Our 4-week Trinity Cert TESOL courses provide you with all the required skills and knowledge to work successfully as an English teacher. No previous teaching experience is required to take the course: you just need to have a high level of written and spoken English and a positive attitude towards education. Our training team is made up of experienced and qualified professionals who will help you become the best teacher you can be.

It is an intensive course; there is a lot to learn in a short period of time so that you leave our school best equipped to be confident in the classroom. 
You can expect to follow a basic daily routine: Teaching practice, feedback time, input sessions and guided lesson planning. Please note that you'll also need the evenings and weekends to work on your assignments and lesson plans.
Classes are assembled by a minimum of 4 to a maximum of 12 people. Courses will start only if it achieves the minimum number of participants.
Entry Requirement:
Candidates should be 18 or over by the start of the course;

Candidates should be able to work at a university level;

Have an awareness and competence in written and spoken English to enable them to follow the course;

Non-native speakers are required to have proof of their language competence;

All candidates are required to conduct a pre-course interview, either at our centre or via Skype;
Pass Requirement:
All 5 units must be passed, during the course or through referral;

In the case of referral, trainees must complete the work to the required grade of the course;

Trainees will not be allowed to offset pass marks achieved in one unit against fail marks from other units.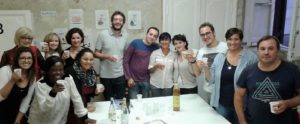 STANDARD PRICE: 1750€
EARLY BIRD PROMO: 1599€ only if you enroll and pay the entire fee 3 months before the course starts!
In the course fee are included: 
– Trinity Moderation Fee (€266);
– course materials;
– internationally recognised TEFL Certificate;
– Recommendation Letter;
– job guidance;
– Internet access / WIFI;
– culture, travelling and living advice.
NB Mind that you have a

free interview

with the Responsible of the TEFL course, through Skype!
Get ready to change your life!